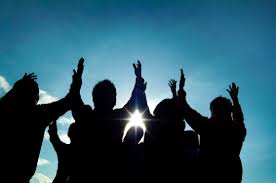 Guests of Acts II Ministries are invited to enter into a heartfelt celebration and worship of our King that encourages freedom of expression and Biblical praise. Our focus is not on programs, people, or formality but on the Savior. We invite everyone to worship God with us in the way they feel comfortable. Here are some Biblical examples of worship you will observe in our services:
Pre-service Prayer
Thirty minutes before each service everyone is invited to participate in a time of prayer, in the church auditorium.  This is in keeping with our goal to make God a priority in our services.
 Praying Aloud
You will hear us praying aloud as in Acts 4:24 "..they lifted up their voice to God with one accord.."
 Sharing Prayer Requests
As the body of Christ, we ministry to each other, as in 1 Thessalonians 5:11 "… comfort yourselves together, and edify one another.."
 Clapping, Lifting Hands, and Singing
We worship vibrantly and expressively, as the Bible teaches.
Playing Instruments
During worship, you will hear a variety of instruments as in Psalms 150, "…praise Him with…the trumpet…the tambourine…the dance.. stringed instruments..cymbals.."
Praying for Healing
Are you sick? We follow New Testament teaching in praying for Divine healing. James 5:14 "Is any sick among you? let him call for the elders of the church; and let them pray over him, anointing him with oil in the name of the Lord."
What to Expect at Acts II Ministries?
What to expect at Acts II Ministries? All this and more. We believe that God is very active in our lives and in our services and strive to live and conduct church a Biblical, Apostolic way that is pleasing to Him. We welcome you to join us.