Acts II Ministry Team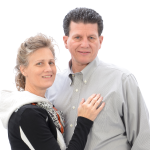 Bishop John & Carolyn Hanson
John Hanson and his wife, Carolyn, reside in Thompson CT where he has served as the Bishop (Lead Pastor) of Acts II Ministries since 1996. He attended 2 years at Jackson College of Ministries and then earned a B.S. in Special Education and Elementary Education, graduating summa cum laude from Texas State University. He has served as a teacher, a principal, an associate pastor and a pastor, district presbyter and district superintendent.
John and Carolyn were married in 1982, and have one son. She graduated from Round Rock High school and attended Jackson College of Ministries for 1 1/2 years. She has had 30 years secretarial and managerial experience in commercial and non-profit settings. She served 12 years as an instructor and curriculum developer in private education and has been a volunteer instructor of children, youth and adults at various non-profits since 1977. She has had 12 years as supervisor of volunteer instructors, 19  years as administrative assistant, director of a music and Children's Ministries. She currently serves as CT District Ladies secretary.
Elder Dennis & Susan Bousquet
Dennis and Susan Bousquet are married with five children, sons and daughter in laws and nine grandchildren. Both born in Southbridge, Mass and natives of Massachusetts until 2011, they now reside in Thompson, Connecticut. Dennis has been a member of the Acts II Ministries "School of Ministry" since 1997 and a licensed minister since 2003. The Bousquet's exude a passion to help others and bring years of valuable experience to the ministry team.
Dennis and Susan have been active in their local church since their conversion in the 1970's. Different areas of involvement for both have been Sunday school, children's church, men's and ladies' ministry, and several areas of outreach. Together they have taught close to 50 Home Bible Studies and have lead prayer groups in Southbridge and Worcester Mass since 1999. In 2010 they helped start up and run a nonprofit organization called "Empower New England" reaching people by teaching basic life skills. Dennis and Susan are certified "Life in Focus" educators since 2006 and have been involved in the "A.C.T.S" program ministering to those addicted to alcohol and chemical substances.
Dennis served six years in the United States Navy CB's. He is a C.N.C machinist and residential carpenter. He uses his carpentry skills to help with building and repair projects for churches in the Connecticut district. Susan has worked in billing and collections since 1993 and owns an organizing consulting business, "Restored Order".
Elder David & Debbie Ford
David Ford born in Southbridge and wife Deborah born in Webster have been married since 1978. Both are graduates from Bay Path Vocational High School. They have three children and three grandchildren and have lived in Thompson since 1989.
David is a master electrician, heavy equipment operator, and a licensed minister since 2004. He has 16 years management experience, board member of two nonprofit organizations and ten years of volunteer experience facilitating and supervising support groups. He also has six years coaching baseball and soccer in Thompson.
      Deborah was a kindergarten, and special needs teacher's assistant and also a substitute teacher in Southbridge, Webster and in the Thompson school system. She is currently working with the elderly nutrition program in Ct. and has fulfilled rolls as a delivery driver and site server in multiple sites, in her sixteen years of service. She also is an assistant instructor for a non profit orientation course.
    Both have been in this local assembly since 1979 and have served on the ministry team in many different capacities.
Elder Nathaniel & Doniece Hardt
Nathaniel and Doniece Hardt met at Jackson College of Ministries. They graduated from JCM in 1981 and married in 1982. They have two children and have been residents of Thompson CT since their marriage.
After studying missions and theology at JCM, Nathaniel received B.A.s in Spanish and Education from the University of Connecticut, and his M.A. in Spanish from California State University.   He also studied Spanish during the summer at Middlebury (Vermont), Salamanca (Spain), Morelia (Mexico), Arequipa (Peru), and Burgos (Spain), and French in Vendome (France). Nathaniel has taught Spanish at Shepherd Hill Regional High School since 1990. He has translated several articles and speeches from English into Spanish, including the book From Darkness to Dawn by Alice Murray and the Bible Study One Lord One Faith One Baptism by John Hanson. He has taught a variety of Training Institute classes and leads a weekly Spanish prayer group. Nathaniel has been an ordained minister since 2005.
Doniece studied Christian education at JCM and later received her A.A. in Education at Quinebaug Valley Community College. She is the manager of a non-profit bookstore and church library. She assists with church administrative duties and bookkeeping. Doniece also has several years' prior experience teaching children and youth and overseeing the Sunday School Department, along with being a home-school teacher for 12+ years.
Elder Tim & Michelle Tremblay and Hannah
Timothy grew up in Sturbridge, MA and Michelle was raised in Louisiana. The couple met at Acts II Ministries and married in 1992 and 22 years later they gave birth to their miracle daughter, Hannah Faith. The family resides in North Grosvenordale, CT.
Timothy has been attending Acts II Ministries since 1977, when he was born again at the age of 10. He has over 30 years of service in several different areas of ministry in the local congregation, including teaching every age group from toddlers to adults and serving on the board. He has led a weekly home prayer group since 1998. He has served as an Elder since 1998 and has been a licensed minister with Acts II Ministries since 2004: preaching, teaching ,performing weddings and funerals and leading outreaches when called upon.
He has held a variety of other jobs in manufacturing, route sales and commercial painting. He was also self employed for 7 years in home improvement.
Michelle has served as secretary treasurer for Acts II Ministries for 16 years. She is knowledgeable in Microsoft Office, Excel and Quick books. She has served with her husband in leading a weekly home prayer group since 1998. She was a certified Life in Focus Instructor for 2 years.
Michelle has 16 years experience in customer service, including 10 years with a non-profit transportation service to the elderly and disabled.