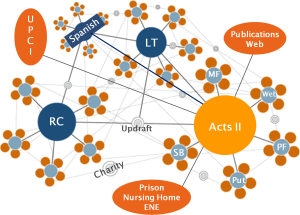 At Acts II Ministries we are endeavoring to structure our leadership team in a manner that best reflects Biblical ministry and terminology. As a result, we use the Bishop/elder/deacon model. The roles found in the church structure are described below.
The Bishop (or overseer, or senior pastor)
Acts II Ministries is organized and lead by a bishop or overseer, who acts very much like a senior pastor. The term bishop is better suited to this application as he spends a great deal of time overseeing the activities those elders, deacons and ministers who carry out much of the church's ministry. A more scholarly definition is included below:
"An overseer, elder, or pastor charged with the responsibility of spiritual leadership in a local church in New Testament times…The SEPTUAGINT (Greek translation of the Old Testament) uses bishop to refer to those who exercise power; sometimes it indicates those who hold positions of authority. It represents a Hebrew term that refers to those who are overseers or officers (Numbers 4:16; Nehemiah 9:9).
In the New Testament, Jesus is called the 'Overseer of your souls' (1 Peter 2:25). In this passage the word is associated with the term shepherd. It is also used to identify the leader of a Christian community or the one who filled the office of overseer. In Acts 20:28 the elders of the church at Ephesus summoned to meet Paul are identified as overseers. Their responsibility, given by the Holy Spirit, was 'to shepherd the church of God.' In Philippians 1 bishops are associated with deacons, and the qualifications are outlined in 1 Timothy 3:2-7 and Titus 1:7-9. Included are standards for his personal and home life, as well as the bishop's relationships with non-believers.
In Acts 20:17,28 and Titus 1:5,7, the terms bishop and elder are used synonymously. Also, the word bishop, or its related words, appears to be synonymous with the word shepherd, or its equivalents (Acts 20:28; 1 Peter 2:25; 5:2).
In his work, the bishop was to oversee the flock of God, to shepherd his people, to protect them from enemies, and to teach, exhort, and encourage. He was to accomplish this primarily by being an example to his people. He was to do this willingly and with an eager spirit, not by coercion or for financial gain. To desire a position as bishop, the apostle Paul declared, was to desire a good work (1 Timothy 3:1). Also see ELDER." (Nelson's Illustrated Bible Dictionary, Copyright (c)1986, Thomas Nelson Publishers)
Elders
"Elders played an important role in church life through their ministry to the sick (James 5:14,15). They were apparently the teachers also in a local congregation. In addition to ministering to the sick, their duties consisted of explaining the Scriptures and teaching doctrine (1 Tim 5:17; 1 Peter 5:5)" (Nelson's Illustrated Bible Dictionary, Copyright (c)1986, Thomas Nelson Publishers)
"The 'elders' of the NT church were the 'pastors' (Eph 4:11), 'overseers' (Acts 20:28; etc.), the leaders who 'have charge' (Heb 13:7; 1 Thessalonians 5:12; etc.) of the flock. They were also the regular teachers of the congregation, whose duty it was to expound the Scriptures and administer the sacraments (1 Tim 3:2; Titus 1:9). (The New Unger's Bible Dictionary.  Originally published by Moody Press of Chicago, Illinois. Copyright (c) 1988.)
At Acts II Ministries our elders are required to attend all appropriate leadership training and planning sessions. They will sometimes lead a prayer group (as outlined for deacons). They will also help begin other prayer groups and eventually supervise several groups or classes. In addition, they will be available to pray for the sick.
A primary role of the elders in our church structure will be to supervise local evangelistic services and teach various classes, under the direction of the Bishop. Whenever possible, elders wives will serve with their husbands in carrying out these responsibilities.
Deacons and Deaconesses
By definition, "Deacon/deaconess will be assigned 'spiritual oversight' of several families in the congregation. They will keep in close contact with the families in their charge to make certain they are involved in church life and are ministered to promptly at times of special need." (Nelson's Illustrated Bible Dictionary, Copyright (c)1986, Thomas Nelson Publishers)
These duties will be fulfilled primarily by submitting to the appropriate leadership training and assuming responsibility for the care of an assigned group of people. There are primarily three kinds of groups that these people lead:
Hour of Prayer and Care group: These are cell groups that meet from house to house on a weekly basis and focus on prayer.
Children's ministry class: these are graded classes that are taught on Sunday mornings from 10 a.m. until 12 p.m.
Youth group: several deacons share in ensuring that our young people enjoy a weekly activity of some kind.
The following are the biblical qualifications of a deacon or deaconess as found in 1 Timothy 3:8-13 The Living Bible: "The deacons must be the same sort of good, steady men as the pastors. They must not be heavy drinkers and must not be greedy for money. They must be earnest, wholehearted followers of Christ, who is the hidden Source of their faith. Before they are asked to be deacons, they should be given other jobs in the church as a test of their character and ability, and if they do well, then they may be chosen as deacons. Their wives must be thoughtful, not heavy drinkers, not gossipers, but faithful in everything they do. Deacons should have only one wife, and they should have happy, obedient families. Those who do well as deacons will be well rewarded both by respect from others and also by developing their own confidence and bold trust in the Lord.
Other Ministries
Other ministries through which members serve others in our church structure are as follows:
Media: tapes, books and other resources are made available through our media center.
Music: musicians and singers lead in praise and worship.
Ushers/greeters: help our guests enjoy their worship experience.